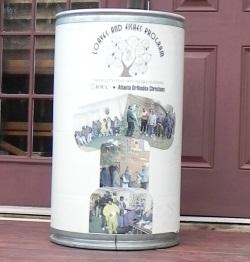 The Loaves and Fishes ministry of St. John the Wonder Worker parish asks that all metro churches collect food items to be collected by them during Lent. They ask specifically for two types of canned goods. Large, institutional sizes for their sit down meals served at lunch each day and small, individual or family size cans for grocery bags they give to homeless people and needy families.
The list of large items they would like most are:
Canned fruits and vegetables
Canned meats
Chili
Chicken stock (boxed)
Beef stock (boxed)
The list of grocery bag sized items:
Soups (pop top cans preferred as many homeless do not have can openers)
Tuna in water
Canned salmon
Diced fire-roasted tomatoes
Canned crushed tomatoes
Canned tomato paste
Canned tomato sauce
Canned black beans
Canned chick peas
Canned cannellini beans
Additionally, for their meals served at the church they need:
Mustard
Ketchup
Peanut butter
Jellies
Jams
Salt
Sugar
Flour
Please bring several of these items with you each week to liturgy, and vespers as you attend. The collection barrel will be placed on the porch of the church so that you can not miss it.