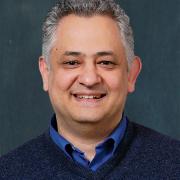 On March 14th, 15th and 16th, Dr. Christopher Veniamin will be at St. John the Wonderworker parish for a Lenten Retreat.
The topics and schedule are:
Saturday, Mar. 15 @ 10:00AM - "The Orthodox Understanding of Salvation"
Saturday, Mar. 15 @ 1:00PM - "Power of Repentance"
Sunday, Mar. 16 @ 12:30PM - "The Orthodox Interpretation of Holy Scripture"
DR. CHRISTOPHER VENIAMIN is a spiritual child of elder Sophrony of Essex and Professor of Patristics at St. Tikhon's Orthodox Theological Seminary in South Canaan PA, where he has served for the past 20 years. He received his first degree in Theology from the School of Theology in the University of Thessalonica, and his doctorate from the University of Oxford. Professor Veniamin is also the President of Mount Thabor Publishing.
For a downloadable copy of the flyer, please click here.
To see more, please visit www.saintjohnwonderworker.org.