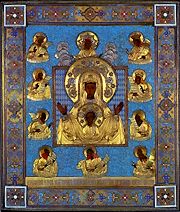 On Friday Feb. 12th 2016 at 7:00p, we will be privileged to host the Kursk Root Icon at our parish!
The Kursk Root Icon is one of the most ancient icons of the Russian Church, with feast days of September 8th and November 27th. Its wonderworking history dates back to when it was first discovered in 1259, and includes includes events such as the healing of Saint Seraphim of Sarov. Saint John Maximovitch reposed before this grace-filled Icon.
Please come join us for this extraordinary moment!

Here are the music and the expectations for us, the faithful, who will venerate this sacred Icon.