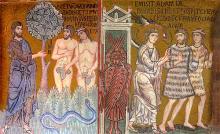 ADAM ATE THE FORBIDDEN FRUIT AND WAS DRIVEN FROM PARADISE.
HE SAT OUTSIDE, WEEPING BITTERLY:
WOE TO ME!  WHAT WILL BECOME OF ME, A WORTHLESS MAN?
I DISOBEYED ONE COMMAND OF MY MASTER, AND LOST EVERY GOOD THING!
HOLY PARADISE, PLANTED FOR ME BY GOD
AND CLOSED BY THE WEAKNESS OF EVE,
GRANT THAT I MAY ONCE AGAIN GAZE ON THE FLOWERS OF YOUR GARDENS!
THE SAVIOR SAID TO HIM:
I DO NOT WISH THE DEATH OF MY CREATION!
I DESIRE THAT ALL SHOULD BE SAVED
AND COME TO THE KNOWLEDGE OF THE TRUTH,//
FOR HE WHO COMES TO ME I SHALL NEVER CAST OUT!
- The Lenten Triodion, Vespers of Forgiveness Sunday